A Week In The Life
So what have I been up to in the last week (and a bit) since I published the first blog post?
As it's pretty much the start of a new month, I've decided to reflect back on where I've been spending my time . . . and it's been a real eye opener 👀
Rather than the massive amounts of marketing & sales activity that I had intended, my days where mainly occupied with admin tasks. This has gotta' change moving into September immediately! 
How not To Do It
So this "week in a life recap" is hopefully not what all my weeks will look like (otherwise there will be no business left to blog about 😲).
This is more of a "How NOT to do it" post for those who are starting their own small business, where I share  lessons learned from following distractions.
Soon I'll publish an "Ideal Week In The Life" post, where I am lasor beam focused, tackling essential tasks rather than drowning in a sea of admin & planning.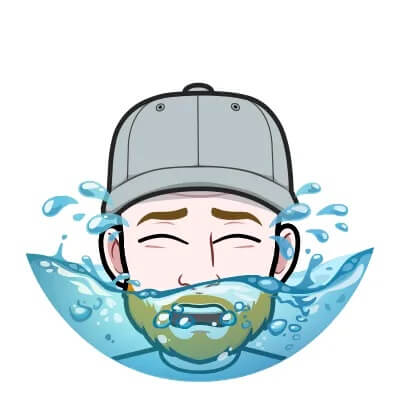 Starting With Self Assessment
So I began filling out my Tax Return Self Assessment for the very first time, after receiving my 2nd activation code from the HMRC through the post (the first one expired as I never got around to it 🤦‍♂️).
If you can do something from the 6th of April, and the deadline isn't until January 31st the following year, I'm usually the kind of person that will jump on it right away in April to box it off for peace of mind . . . however . . .
. . . back in April my business coach advised me that in the grand scheme of things the tax return wasn't a priority when compared to other pressing items on my to do list. It's now been around 4 months since that conversation, so the deadline doesn't seem so distant anymore. 
Also recently I met with an accountant who sold me on the benefits of completing the self assessment early (including seeing opportunities to improve cash flow sooner).
So that was half a day eaten away; answering questions, googling tax terms & digging out information.
Time will tell if this was the right time to take my first look at the tax return self assessment or if should have just moved on to more important things for now. At what point do you bite the bullet and face it?
I completed as much of the online self assessment tax return forms as I could.  For the last few areas that I was unsure about, I called HMRC for some pointers to make sure I do everything above board. Due to the pandemic, no experienced agents with answers where available, so I'm waiting on a call back within 7 days (11 days later I'm still waiting 😔).
I made a note that if I speak to my business coach before a HMRC agent gets back to me, perhaps she could clarify my confusion . . .
Sticking Points
. . . which reminded me. I'm overdue a catch up with my business coach. 
As the weeks pass by turning into months, I usually collect any questions and sticking points I have related to my business in a single document, so I can rattle through them when I chat to my business mentor.
It's been a while since I last spoke to my business adviser, and I seem to have slipped into the bad habit of noting miscellaneous questions for her in several locations.
With a birds eye view of the business I gathered up all my questions into one place, and realised that there wasn't quite so much to cover as I had imagined.
This did however bring to my attention that after a year of trading and jiggling tasks around as they increase and fall in importance, the weeds have taken hold of my project management boards and to do lists.
Failing To Plan Is Planning To Fail
This Benjamin Franklin's quote has stuck with me since I was a nipper. I'm a planner at heart, in many aspects of life, believing that a lack of planning can be costly.
For a clean slate starting in September I wanted to prune and re-prioritise my to do lists & project boards before they fall into any further disarray.
You can't prioritise without first being clear on your goals. 
After establishing what my main objectives over the next couple of months are (hint MASSIVE amounts of Sales & Marketing), I gathered up and consolidated all my splintered to do lists. Seeing so many to do's all out of order was in incredibly intimidating, I can still feel echos of heart palpitations just thinking back to this.
Working backwards from my clearly established goals and objectives, I then sorted all my to do tasks into priority order, dragging them around project boards and pasting them into secondary to do lists.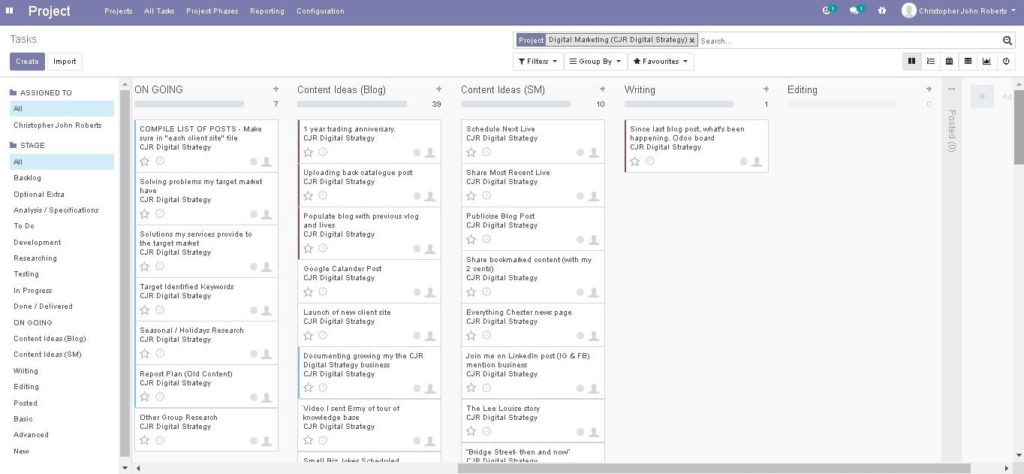 With my Odoo project boards and Evernote to do lists now organised into priority order, I feel I have more confidence with a strategic plan of action heading into September (and beyond). As tasks are all out of my head and clearly prioritised on screen my mind feels a lot less cluttered.
Backup
My first task on Monday mornings is always to make a backup of my Odoo database from my local machine to the cloud.
Odoo is an open-source ERP, a suite of business management software tools, including a CRM, invoicing, accounting, project management and many many more features.
At the moment I mainly use it for project management, with boards for both client projects and projects within my own business.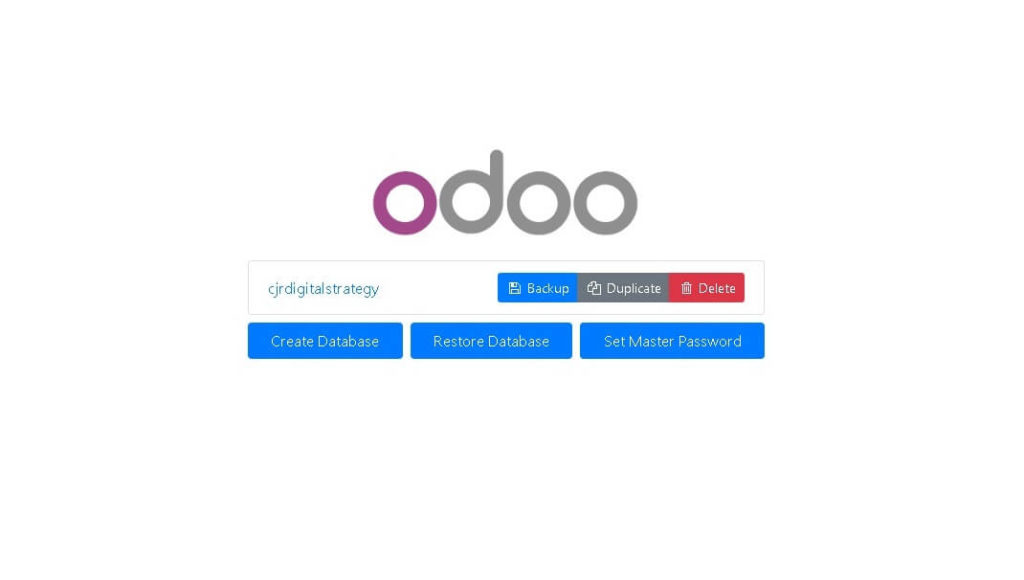 I'll cover more on the uses and advantages of Odoo in future posts, but for now just say that with any software (especially those so critical to your business), it's important to regularly backup.
Social Media
With marketing currently being a top priority, it was time to move on to sharing my first blog post across social media platforms.
I posted across my: 
I also systematised this process by:
Documenting a posting "recipe" to follow each time I post on social media
Coding a batch (.bat) file that opens all the applications & websites I need to do this at the click of a single button
NB I plan on writing a future post explaining this in further detail.
I then wrote and scheduled posts to be published in the future using 3rd party software (Viral Pep, Buffer, Later.com, Crowdfire & Metigy).
Once again I systematised this process creating a "recipe" to follow each time I schedule posts on social media platforms. 
NB Again I plan on explaining in more detail in a future post.
Wrapping Up With A Live Stream On Saturday
Usually my week ends on a Saturday. I made a small change request to a clients site in the morning and in the afternoon it was time for my regular weekly live stream on Facebook.
On Saturdays at 3pm I offer a free live stream Q&A and website. This is an opportunity for anybody with website related questions or problems to ask for help and solutions. These free sessions are ideal for those who already have a website and are looking to improve it and get the most out of it, or anybody thinking of getting a website who doesn't know where to start.
Taking Requests
If there is anything I've mentioned in this post that you'd like know more about, or for me to expand in further detail, do let me know.
Also if there are any topics you'd like this blog to cover in the future just give me a shout.
To easily follow along as I document this journey you can sign up for the newsletter, subscribe to the blogs RSS feed or bookmark the blog page.
Do leave a comment to let me know your thoughts, suggestions or just to say "hi". 
Get in touch personally if I can help with anything and please share this resource with a friend who will find it useful.